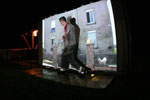 Razkrijmo ??e zadnjo skrivnost. Bogata tradicija nočnih, zarotni??kih, nenapovedanih projekcij se letos razra??ča. Spet ne bo ??lo brez svetovne predpremiere (film presenečenja), prevladujejo pa domači spregledanci.
ART KINO ODEON:
sob/sat 27.5.
23.10 Kaj bo?? počel, ko pride?? ven od tu?•What are you going to do when you get out of here? Sa??o Podgor??ek
00.10 Poročno Potovanje•Honeymoon Dra??en ? tader
nedelja/sunday 28.5.
23.00 Voda v očeh•Eyes Full of Water Jo??e Ba??a.
ponedeljek/monday 29.5.
23.00 Film presenečenja•Surprise film;
ob 00.00 Pod njihovo ko??o•Under their S.K.I.N. Vlado ? kafar.