za isolacinema.org pi??e Matja?? Ličer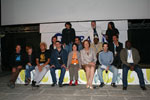 Manziolijev trg, vklesan med starodavne kamnite stene nam najljub??e sredozemske lučice, je počasi in vztrajno sprejemal oto??ke obiskovalce, dokler ni bil tako poln, kot se za otvoritveni večer spodobi. Oblake zaskrbljenosti festivalske ekipe je razpihala ugodna vremenska napoved, ki je omogočila tako zelo za??eleni in te??ko pričakovani scenarij: ljudje pred platnom, galebi nad platnom, zvezde nad galebi, brez kaplje de??ja, temperature od sonca razgretih mestnih zidov pa na večer prav prijetne.
A tudi v nasprotnem primeru ne bi bilo hudega - Kino Otok je pač festival kontrastov, sivine ne maramo, barve obo??ujemo, in tako tudi vroč film na hladen večer ne bi nikjer silil iz kadra. Oto??ki večerni scenosled se je začel z nagovoroma direktorice festivala Nine Peče in programskega direktorja Vlada ? kafarja, ki sta poudarila, da smo v Izoli predvsem zaradi festivalskih gostov in njihovih filmov. Letos jih je v Izolo z vseh vetrov, ki se vrtinčijo med Filipini in Berlinom, prispelo trinajst. To so Bill Daniel, William E. Jones, Peter Mettler, Beto Brant, Renato Clasca, Idrissou Mora Kpai, Kollo Daniel Sanou, Abolfazl Jalili, Valeska Grisebach, Lav Diaz, Raya Martin, ??elimir ??ilnik in Dragomir Zupanc. Slednji, ki prihaja iz Srbije in Ä?rne Gore, je v duhu časa omenil, da nam prina??a pozdrave iz de??ele, ki ta hip takorekoč ne obstaja več, vendar je v isti sapi dodal, da človeku ne gre obupavati, temveč je potrebno razmi??ljati pozitivno. Ja, nekaj nam pravi, da se bo Zupanc v Izoli počutil kot riba v vodi. Svojevrstno dobrodo??lico so si oto??ki obiskovalci izrekli tudi z iranskim gostom Abolfazlom Jalilijem, ki jih je pozdravil v jeziku Farsi, oni pa so mu po nekaj trenutkih kolektivne kulturne izmenjave v natanko istem jeziku odzdravili. Skupaj z gosti je bila na oder povabljena ??upanja mesta Izola gospa Breda Pečan, ki je tako otvorila ??e eno edicijo festivala Kino Otok, ki se je, kot vse ka??e, skozi leta svojega obstoja v Izoli prijetno namestil in se na primorski grudi prav fino razteguje na spomladanskem soncu. Ker nam je vreme zaenkrat tako naklonjeno, se kajpak ne spodobi, da bi človek okoli??činam preveč pretanjeno gledal pod prste, a treba je dodati, da je na otvoritvi vseeno nekdo manjkal. To je bil Nacer Khemir, ki je bil v zadnjem hipu prisiljen spremeniti načrte in iz partnerskega Innsbrucka namesto v Izolo odpotovati v Pariz. Preden smo si ogledali otvoritveni film, Khemirjevo občutljivo restitucijo islamskega dostojanstva Dedek Aziz, pa nam je re??iser poslal video pozdrave z obljubo, da gotovo obi??če Kino Otok s svojim naslednjim filmom. Do zadnjega sede??a napolnjen Manziolijev trg ostaja jasno sporočilo obiskovalcev, da bo, ko se vrne v prvi osebi, več kot dobrodo??el.