za isolacinema.org pi??e Ma??a Peče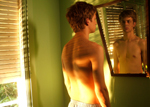 »Preden je bil bog Bog in kamen kamen, so bili Baski Baski«, pravi star baskovski pregovor. In v San Sebastianu, tako imenovani utrdbi baskovskega nacionalizma, ta vsekakor velja, saj je tu občutiti čisto poseben, baskovski pogled na svet. Rdeče preproge so polne policistov, na ulicah se vsak dan protestira, pa zato dolge pe??čene pla??e niso nič manj obiskane, po cesti se sprehajajo bosonogi deskarji, bari so polni 24 ur na dan, pulti se ??ibijo pod polnimi pladnji pintxos in bocadillos (oblo??enih kruhkov in drugih prigrizkov), iz pip se cedita sidra in txacoli (jabolčnik in lokalno belo vino). Tako to gre, najprej protesti, nato obvezna siesta in potem jasno fiesta…vmes pa filmi.
Mednarodna ??irija uradnega tekmovalnega programa, ki ji je predsedovala Anjelica Huston je letos s srebrno ??koljko za najbolj??ega re??iserja nagradila Zhang Yanga za film Xiang Ri Kui (Sunflower, Kitajska), zlata ??koljka za zmagovalni film je pripadla če??ko-nem??ki koprodukciji ? testi (Something Like Happiness) Bohdana Sl??me, posebno nagrado ??irije pa je prejel argentinski Iluminados por el fuego re??iserja Trist??na Bauerja, prikaz ??e trajajočih posledic vojne za Falklandske otoke. Cvitkovičev Odgrobadogroba je prejel nagrado fundacije Altadis za nove re??iserje »za inteligentno kombinacijo komedije in drame skozi like, ki nas neprestano presenečajo v filmu polnem vitalnosti«.
Mednarodna federacija filmskih kritikov FIPRESCI je leto??nji Grand Prix za najbolj??i film leta - nagrado namenjeno najbolj 'drznemu, originalnemu in avtorskemu filmu'- namenila ju??no korejskemu re??iserju Kim Ki-duku za izvrsten Bin-jip (3-iron), ki mu je na lanskoletnem bene??kem festivalu prinesel srebrnega leva za re??ijo. Nagrado za najbolj??i film festivala pa je ??irija FIPRESCI podelila Terryju Gilliamu za Tideland. Film, ki ga re??iser sam opi??e kot 'Alica v čude??ni de??eli sreča Psiho', le da Alica v čudni in ne toliko čude??ni de??eli sreča ??e Twin Peaks, Ko jagenjčki obmolknejo in Ä?arovnika iz Oza.
V vzporedni uradni sekciji Zabaltegi najdemo 'bisere drugih festivalov' ter filme novih ustvarjalcev. Med prvimi izbira zmagovalca občinstvo, ki je letos izglasovalo Tavernierjev Holy Lola. Predvajani pa so bili med drugim netipičen Woody Allen z Match Point, film Giade Colagrande Before It Had A Name, v katerem se je re??iserkin soprog in leto??nji prejemnik nagrade Donostia za ??ivljenjsko delo Willem Dafoe preizkusil kot koscenarist, TanoviÄ?ev hommage Kieslowskemu L'enfer in Kim Ki-dukov Hwal (The Bow).
Med novimi re??iserji je bil zlasti odmeven The Cave Of The Yellow Dog, mongolske re??iserke Byambasuren Davaa, avtorice z oskarjem nominiranega dokumentarca The Story Of The Weeping Camel (2003).
Tretja tekmovalna sekcija je posebnost San Sebastiana. Horizontes Latinos je posvečena izključno filmu latinsko ameri??ke produkcije in koprodukcije. Sekcija je namenjena finančni podpori ter promociji latinskega filma in deluje kot odskočna deska za evropsko distribucijo. Poleg tekmovalnega programa in podsekcije Made in Spain je tu ??e projekt Films in Progress, ki re??iserjem neodvisnega latinsko ameri??kega filma omogoča resurje za dokončanje projektov, dostop do festivalov in kinodvoran. Projekt se odvija četrto leto pod okriljem festivala v San Sebastianu in Recontres Cin??mas d'Am??rique Latine v Toulousu. Letos so v horizontih ??tevilčno prednjačili Argentinci. Como pasan las horas (The Hours Go By), argentinske re??iserke In??s de Oliveira C??zar (in z monta??o otočanke Ane Poliak) je poetičen, minimalističen prikaz minevanja, prehajanja ure v uro, generacije v generacijo, ??ivljenja v smrt. Argentinska re??iserka Albertina Carri se je s filmom G??minis (Gemini) dotaknila teme incestuozne ljubezni med bratom in sestro v navidez popolni dru??ini vi??jega razreda.
Tudi v filmu La Sagrada Familia (The Holy Family) čilenskega re??iserja Sebasti??na Camposa je institucija dru??ine vse prej kot sveta. Latinske horizonte je zaključila projekcija nedavno restavrirane kopije filma Los Olvidados (The Young and The Damned, 1950) Luisa Bu??uela. Glavno nagrado pa je prejel mehi??ki Toro Negro (Carlos Armella, Pedro Gonz??lez-Rubio).
Poleg omenjenih sekcij sta se na leto??njem festivalu odvili tudi retrospektivi nekonvencionalnega Abela Ferrare in vsestranskega klasika Roberta Wisa. Tako se je festival začel z ??alostno novico, da je Robert Wise na predvečer slavnostne otvoritve umrl za posledicami srčnega infarkta. Ferrara pa je na festivalu predstavil svoj najnovej??i film Mary, ki je po besedah re??iserja edini film na katerega je resnično ponosen.