za isolacinema.org pi??e Oana Stupariu
foto © Jo??e Rehberger Ogrin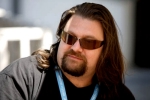 Va??i filmi predstavljajo nekak??en rentgenski pogled na regijo, iz katere prihajate. Kako se od prikazanih problemov odtrgate in nanje pogledate od daleč?
Zame kot filmarja je poglavitna motivacija interes za mikrokirurgijo člove??ke du??e. Ta je tarča mojega pogleda. Bolj kot dejanja me zanimajo ljudje in prepričan sem, da je vsako dejanje zgolj posledica odnosov med ljudmi. Pripovedujem pač zgodbe o ljudeh, ki ??ivijo v moji de??eli. Ä?e bi hotel posneti film v drugem okolju, bi to storil le, če bi me na nanj vezala kak??na posebna ideja ali odnos.
Skozi va??e filme se pretaka in je očitna enotna vizija. Kako jo dosegate?
Pri vseh svojih filmih delam z istim direktorjem fotografije. Zadnji film je bil problematičen, ker smo delali na zelo majhnem prizori??ču. Pravzaprav se celotna zgodba odvija v dveh ali treh sobah. Ker smo bili s prostorom tako na tesnem, sem kamero lahko premikal samo toliko, da sem ustvaril občutek prostora oziroma vzdu??ja v tem resnično majhnem prostoru. Snemali smo v glavnem notri in notranje gibalo filma so notranji vzgibi filmskih likov. S premiki kamere sem ??elel le podčrtati njihova stanja, pritegniti gledalca in ga prisiliti k uvidu, kaj se pred njim zares dogaja. Prvič sem tak tip premikov kamere opazil v filmu Seks, la??i in videotrakovi, ki je na nek način podoben mojemu filmu. Tudi tam je ??lo za neke vrste mikrokirurgijo srca in du?? pe??čice ljudi in odnosov med njimi. Postalo mi je jasno, zakaj je film napravljen na tak način. Odgovorov nikoli ne i??čemo v tehničnih re??itvah vizualnih problemov, temveč v delu z igralci. Ä?e se z njimi nekaj dogaja, organsko pač spremlja?? njihova dejanja, in kadar sedijo, lahko začuti?? energije, ki se pretakajo med njimi. Sledenje tem energijam, to je moj način premikanja kamere.
Nekatere izmed igralcev v filmu Pri stricu Idrizu smo lahko videli ??e v va??em celovečernem prvencu Gori.
Res je. Ne uporabljam nobenih agentov ali posrednikov, saj osebno poznam vse bosanske igralce in mislim, da so zelo dobri, jih pa ni veliko. Druga stvar je ta, da rad delam z ljudmi, ki jim zaupam in s katerimi sem imel dobre izku??nje v preteklosti. Naj poenostavim: rad delam s prijatelji. Vloge jim seveda dajem zgolj na podlagi likov, ki naj bi jih igrali.In ko med snemanjem spoznam veliko novih ljudi, vedno upam, da bodo z menoj delali tudi pri naslednjem projektu. Mislim, da je pomembno, da ima re??iser 'svojo' ekipo. ? e bolj pomembno je to, da delam z istim producentom in produkcijsko hi??o, ki za re??iserja predstavlja pravi dom.
Se vam zdi, da vpletenost re??iserja v proces nastajanja scenarija lahko kasneje pomaga pri bolj??i presoji med snemanjem?
Seveda. Tokrat nisem napisal svojega scenarija. Vendar vsak re??iser v sodelovanju s scenaristom sam oblikuje končno verzijo scenarija. Med snemanjem se nato scenarij napi??e nanovo in nato ??e enkrat med montiranjem. Re??iser je tako – k sreči ali na ??alost – tisti, ki je v končni fazi v vsakem primeru najbolj odgovoren za scenarij.