za isolacinema.org pi??e Vasja Bibič
foto © Crossing Europe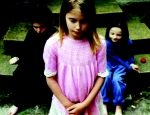 Ob razglasitvi glavne nagrade na drugem mednarodnem festivalu Crossing Europe Linzu ni manjkalo začudenih in osuplih pogledov ??tevilnih gostov in novinarjev, glede na ??tevilo obiskovalcev, ki je zapustilo dvorano ??e pred koncem (prvonagrajenega) filma, pa je odločitev ??irije verjetno podobno dvoumno odmevala tudi med publiko. Toda dejstvo, da je prejel nagrado vi??ini 10.000 Eurov film DEMI-TARIF, ni bila kak??na običajna ??irijska spletka pod vplivom ??efov festivala, producentov ali publike.
??irija je z odločitvijo za najbolj radikalen in ??ir??o publiko te??ko gledljiv film tekmovalnega programa podčrtala pogumen koncept lin??kega festivala, enega redkih »manj??ih« festivalov, ki ve kaj hoče ??e po svoji drugi izvedbi. CROSSING EUROPE namreč predstavlja skrbno izbrano selekcijo filmov (predvsem mlaj??ih avtorjev) , ki filmski izraz pojmuje inovativno in ??irijo polje filmskega jezika hkrati pa se brezkompromisno lotevajo socialno političnega konteksta, iz katerega izhajajo.
63 minutni DEMI-TARIF, celovečerni prvenec francoske igralke (med drugim A TOUT DA SUITE, Benoit Jacquot) Isild Le Besco bi lahko bil »film o zavr??enih in pozabljenih otrocih«: prikazuje tri otroke med sedmim in devetim letom starosti, ki ??ivijo v velemestu (Pariz) popolnoma sami in brez podpore ne le star??ev temveč tudi preostalega sveta. Najpogosteje se tak nastavek zgodbe izrodi v globokoumno in psihologizirano dramo o
za »nedol??ne« otroke pogubnih posledicah pomanjkljive vzgoje star??ev in nezadostne skrbi ??ir??e dru??be.
Toda v DEMI-TARIF so tako star??i kot dru??ba popolnoma odsotni, »izgubljeni« otroci nočejo zavetja, nočejo, da bi kdorkoli izvedel, da ??ivijo sami in jim odvzel to svobodo. Odrasli so le del pravcatega teatra otro??kega prikrivanja in skrivanja, njihove igre s popolno samostojnostjo in svobodo. Za potrebe tega teatra redno hodijo celo v ??olo, ko pa jih kdo povpra??a po star??ih, hladnokrvno odgovorijo da jih trenutno ni doma. Toda ta igra svobode je kruta: v trgovini morajo krasti hrano, na podzemno se morajo ??vercati, beračenje je njihova slu??ba, v kino pa hodijo zato, ker doma nimajo kurjave.
Ti otroci, Kolia, Lila in Cindy razumejo svoje ??ivljenje kot veliko skrivalnico, v kateri lahko ostanejo svobodni le v svoji mali vojni proti svetu, imenovanem »realnost za pol cene«.
Ä?eprav je bila film posnet po vnaprej napisanem scenariju (triindvajsetlenta Isild le Besco ga je napisala pri ??estnajstih), se zdi, kot da so se ustvarjalci filma poplnoma prepustili otro??kemu gibanju in akciji. Nemara so imeli tudi nekaj sreče, da vseh sedem let nihče od producentov ne glede na pomemben igralski status Le Bescove v Franciji ni hotel sprejeti projekta. Kot njeni otroci je Le Bescova vzela usodo v svoje roke. Film je posnela praktično doma, starej??i brat je tekal s kamero, mlaj??i je igral, mama pa je bila producentka. Le Bescova je film sama tudi zmontirala.
Pravzaprav je DEMI-TARIF četrti otrok lastnega filma: ekstatična kamera, ki multiplicira neulovljivost otrok, nesimetrični monta??ni rezi, hrupni zvoki, ki se izmenjujejo s ti??ino, cinična a tudi melanholična off pripoved protagonistov pome??ana s smehom in jokom, skratka vsa uporabljena filmska sredstva nenehno komunicirajo z glavnimi protagonisti in njihovo akcijo, begom, stresom, trenutkom umiritve. Rezultat je film, ki podira dosedanje meje filmskih izrazov z redko videno, skoraj fizično, materialno prezenco in močjo, ki je hkrati več kot ??ivljenje in več kot film, kakr??nega smo vajeni.
Za ??e večji učinek materialnosti, »sve??ine in hkratne nujnosti« svojega filma pa je Le Bescova poskrbela ??e za edinstven »director's cut«: ker po prvi projekciji in pogovoru z občinstvom v Linzu ni bila več zadovoljna z začetkom in koncem filma, je velela operatorju le-ta kar odrezati. Ker sem videl to drugo verzijo, niti ne vem kak??en je bil začetek in konec filma, pa tudi najavne in odjavne ??pice ni bilo več.
Naj zaključim to poročilo iz Linza z besedami Chrisa Markerja;«Ko smo prvič gledali DO ZADNJEGA DIHA, je bilo sporočilo pribli??no tak??no:'Karkoli je to, kar smo pravkar gledali, tega ??e nikoli nismo videli na filmskem platnu'. Od takrat sem občudoval veliko čudovitih inovativnih filmov, toda nikoli več nisem imel tako fizičnega občutka sve??ine in hkratne nujnosti, vse do DEMI-TARIF«.