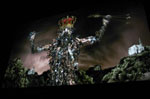 Festival
Animateka
je pri kraju in strokovna ??irija je objavila svoje preference.
Zmagovalni filmi 3. mednarodnega festivala animiranega filma Animateka 2006 so:
Svet filma Kodak nagrada ??irije / The World of Movies Kodak Grand Prix
Igra / Jeu / Play
Georges Schwizgebel (Studio GDS/NFB)
?ávica/Kanada / Switzerland/Canada, 2006, 35mm, 3′50′'
Vizualna glasbena igra, ki se gradi in ru??i po ritmu Prokofijevega Scherza iz klavirskega koncerta ??t.2.
Nokia nagrada ob─Źinstva / Nokia Audience Award
Dvori??─Źe / The Courtyard
Nejc Saje (Strup produkcija)
Slovenija / Slovenia, 2006, 35mm, 24′
Majhen blok na robu mesta in igri??─Źe zraven njega. Otroci igrajo ko??arko, kar stra??no moti neprijaznega soseda Lazarja, ki jim neprestano krade ??oge. Vendar ni vse tako, kot se zdi, poglejte na ??ivljenje z druge strani. beri naprej | read more